サメとその生息地の保護を訴えるため設立されたNGO団体
PangeaSeed
によるアメリカwaistcoastで行われるアートイベント
に参加いたします。
About PangeaSeed: PangeaSeed is an international grassroots organization founded in Tokyo, Japan dedicated to educating and raising global awareness on the plight of sharks and the destruction of their habitat. Through volunteer activism, research, and the various mediums of art, music, film, and photography, PangeaSeed aims to create an open dialog with the global community to develop an understanding of the need to preserve and protect sharks and the oceans. PangeaSeed is the first organization in Japan to raise public awareness regarding shark conservation and preservation. We rely on the generosity of our supporters.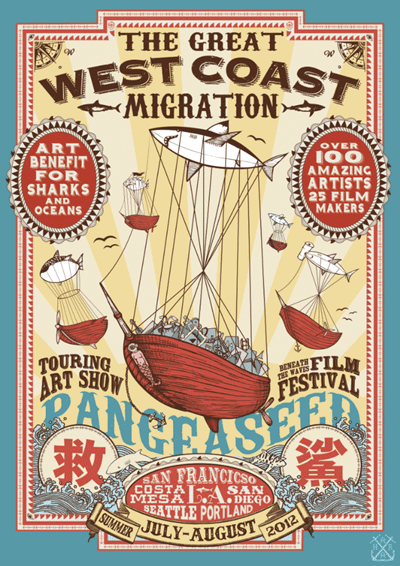 About Gallery Sponsors –
Seattle – July 13 – 15: Roq la Rue (http://roqlarue.com/) Since opening in 1998, Roq la Rue has been an integral part of the Pop Surrealism/Underground Contemporary art movement. They continue to exhibit established artists in the genre as well as fostering emerging artists, many of whom go on to great acclaim in the Pop Surrealism and Contemporary art scene. Their emphasis is on art that embodies technical craftsmanship blended with fantastical imagery and visually dynamic narratives featuring monthly exhibitions, and offer better works on the secondary market.
Portland – July 20 – 22: Grass Hut Co. (http://grasshutcorp.com) is a gallery/shop/studio located in Portland, Oregon, but all the artists involved have turned it more into a colorful wildfire of creativity that has spread throughout the tubes of the Internet connecting artists from around the world. It's about the spirit of stoking each other's creative fires and making art that reminds everyone to have fun. Grass Hut is also home to the finest indie-published zines, crafts, goofy toys, limited edition prints.
San Francisco – July 27 – 28: Spoke Art (http://spoke-art.com) is San Francisco's newest art gallery and publishing house. Located in San Francisco's dynamic Lower Nob Hill neighborhood, Spoke Art specializes in emerging new contemporary artists with a firm emphasis on figurative and illustrative works.
Los Angeles – August 2 – 4: LeBasse Projects (http://www.lebasseprojects.com) is focused on the development of a carefully selected roster of international emerging artists. Since opening its doors in the Culver City Art District in 2009, LeBasse Projects has presented a program that fosters the growth of its artists by allowing them the freedom to create across a range of mediums.
Costa Mesa – August 10 – 12: The ARTery (http://thelab.com/shops/the-artery) is a series of steel shipping containers transformed into a walkthrough community art exhibition space. The ARTery is dedicated to supporting emerging artists through their exhibitions and installations.
San Diego – August 18 – 19: Space 4 Art (http://www.sdspace4art.org) aims to establish permanent, affordable working, living and support facilities for artists in San Diego with maximum community involvement. With goals to grow their idea through the eventual acquisition and building of a permanent facility. As well as to dramatically increase the number of work/live units available, thereby attracting more emerging artists to San Diego.