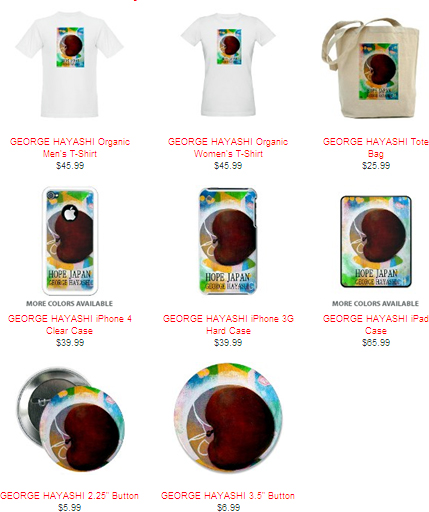 チャリティープロジェクトTomodachi Callingに参加させて頂きました!!
- HOPE JAPAN - GEORGE HAYASHI x Tomodachi Calling


FOR IMMEDIATE RELEASE
東北地方太平洋沖地震 被災者のための チャリティーWEBショップ
- 売上げの100%が日本赤十字社へ寄付されます。-
Tomodachi Calling はシャツやノベルティを販売するチャリティーWEBショップです。
日本生まれ、日本在住など、日本で繋がった世界中の友達によって立ち上げられました。
2011年3月11日金曜日、東北地方太平洋沖地震が発生したとき、私たちの大半は東京にいました。
この地震によって引き起こされた二次、三次の災害は、私たちに衝撃と恐怖を与えただけではなく、
自分たちの無力さを突きつけました。この経験がチャリティーWEBショップを始めるきっかけとなり、私たちが尊敬するアーティスト、好きな人たち、つまり" Tomodachi "(友達)に声をかけ始めました。このWEBショップでの利益は100%日本赤十字社へ寄付されます。
そして、この災害の被災地の方々のために使われます。
私たちの目的は明確です。それは"一番困っている人に出来るだけ早く、たくさんのお金を届けること"です。それぞれに出来ることはたくさんあるけれど、私たちは自分たちで今出来る一番いい方法として、このTomodachi Calling を立ち上げました。
WEBショップ・ブログともに、新しいデザイン、情報をどんどんアップしていくので、どうぞ応援してください。この場を借りて、このプロジェクト実現の為に協力してくれたtomodachiに感謝します。
そして被災地の方々、一緒にがんばりましょう。
アリガトウ!

Tomodachi Calling is a charity webshop with T-shirts and other cool stuff. We are a couple of international friends who have met in Tokyo, either because we are living there by choice, were born there or were visiting.

Most of us were in Tokyo at the time the big earthquake hit northeast Japan on Friday March 11, 2011, 14:46 JST. The unfolding events in the minutes, hours and days following the quake left us in a state of shock and terror. It made us feel helpless. So instead of hoping and waiting, we decided to combine and to act. We are therefore asking friends (in Japanese: "tomodachi"), focussing on artists whose works we admire and creative people we like, to contribute a design for our charity-webshop.

100% of Tomodachi Calling's profits will go to the Japanese Red Cross in order to help the victims of the unthinkable disasters that recently struck Japan.

Tomodachi Calling will continually upload new artists and artworks on the charity webshop and blog. Subscribe to our newsletter, RSS-Feed and Facebook-page to receive all news and updates about our project. Please visit our shop and blog often. This is only the beginning!

Arigato Gozaimasu!

The Tomodachi Calling Team
Tokyo, Osaka, Phuket, Zurich, Berlin, Paris

CONTRIBUTORS
Logo Design: Alexander Gelman
Web Design: Matthias Seidel, Benjamin Thomas
Translation: Chris Jones, Alexandre Prestele
Text: Charlotte Van Zanten, Vicente Gutierrez
CONTRIBUTING ARTISTS
Eye Yamatsuka, Michel Gondry, Robert Crumb, Sato Kayo, Daito Manabe, Xavier Veilhan, Carsten Nicolai, Ian Anderson (The Designers Republic), Ryan McGinley, Joji Shimamoto, Kento Mori, Koji Sato, Naoko Maeda, Julien Levy, George Gally, Shunsuke Umiyama, tiny dinosaur, Okosama-Star, Dag Przybilla, Jeans Team, Simone Gilges, Sebastian Mayer, Jun Akaike, Aukje Dekker, Eoos, Aisha Zeijpveld, Hanayo, Yusuke Kagari, Kosuke Hashijima, Ryota Saiyo a.k.a. Pinkman, Seiko Yukiura, Colin Schaelli, Aco, Maxence Gilliard and his friends, Gunnar Bauer, janus & jason, ON ZA LINE, Fehmi Baumbach, Cabine Boys, Roger Ibars, Paul Seymour, Sebastiaan Schlicher, Scrambled Eggs, 501DESIGNSTUDIO, Lana Daher, Aron Morel, Ari Deelder, LAByrinth / Elaine Young 楊綺鈴, GEORGE HAYASHI,Giovanca, Laurent Ghnassia, Ingo Hecker, Maya Thunberg, Diego Gravinese, Herbert Druschke, Benjamin Güdel, Gay Mormon Kissing Club … and many more to follow!
SUPPORTERS
David d'Heilly
CORE TEAM
Naoko Maeda, Ai Kurahashi, Charlotte Van Zanten, Matthias Seidel, Alexandre Prestele, Kyoko Shimohama, Sebastian Mayer
INITIATORS
Ai Kurahashi, Naoko Maeda, Sebastian Mayer
CONTACT & LINKS
INFO: arigato.tomodachi@gmail.com
PR: press@tomodachicalling.org
TWITTER: @TomodachiCallin
MEDIA-KIT: http://www.tomodachicalling.org/press/TomodachiCalling_Press_JP.zip
SHOP: www.tomodachicalling.org
BLOG: www.tomodachicalling.blogspot.com
FACEBOOK: www.facebook.com/tomodachicalling