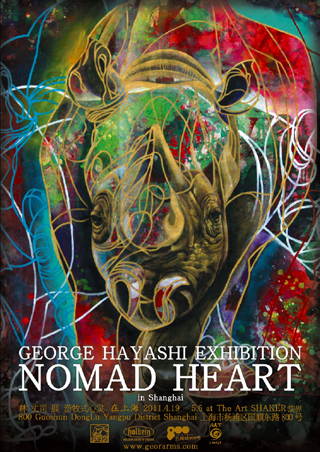 尊敬的阁下:
值此牡丹吐蕊,花开富贵之际,愿您万事如意,吉祥安康。
兹定于以下时间和地点举办我的个人展览:GEORGE HAYASHI 上海exhibition 「NOMAD HEART」。
3月11日,在日本东北地区发生了有观测记录以来最严重的大地震。
灾害发生之后,日本到处可见悲惨而困窘的景象。
日本国民已经接受现实,团结一致,奋发努力,争取早日度过难关。
我作为其中的一员,也想为国家和世界的将来尽一份力量。
我希望日本早日恢复活力。这样的心情用语言表达是远远不够的,因此催生了这次个展的举办。
本次个展的主题是「NOMAD HEART」,也是我的个人信条。这次的作品主要是动物,它们在与环境和同伴的互动中获得生存的智慧。我借用它们想要表达的,是带着自由的精神,到哪里都要「活出自我」的人生智慧。

GEORGE HAYASHI EXHIBITION - NOMAD HEART - in Shanghai
2011.4.19-5.6  五角场800号 ARTSHAKER .旋界
※个展的第一天(4月19日)将召开小型的招待会。可免费参加,敬候各位光临。
旋界 : 上海市国顺路800号西楼 上海800艺术区 
ARTSHAKER : No.800 East Guoshun Rd.Shanghai .TEL:86-21-55126636*803
http://www.800artsh.com/
这是我在海外的首次个人展览。
展期中的4月19日到5月6日我将一直在上海。考虑到不一定每天都在个展现场,因此在莅临观赏之前,烦请发邮件至info@georarms.com或者hizu_m@georarms.com (manager松田)告知我们您的参观时间,谢谢您的合作!
请偕亲朋好友共同光临,我们真诚恭候各位!



Dear Sir/Madam:
In this season with trees flourishing and flowers blooming, we heartily wish you the best in everything around you and your family.
We would like to invite you to GEORGE HAYASHI 's exhibition 「NOMAD HEART」in Shanghai.
On March 11th, Japan was plunged into chaos after a cataclysmic earthquake sent merciless tsunami waves rushing through its helpless streets.
It was the most devastating quake in Japan's history, and we Japanese have united to overcome this largest crisis after World War II.
As one of them, I will not hesitate to support my country in its reconstruction, as well as its future with other parts of the world.


The wish is too strong to be expressed by words for Japan to resume its vigor. And that is where my exhibition comes in.
My exhibition will be featuring「NOMAD HEART」, which is also the motto of my life. I mainly deal with animals,who are constantly learning from environment and friends, to elaborate my message. That is, under any circumstances, I will always live the way I am and be ready to dig out what life has for me.

GEORGE HAYASHI EXHIBITION - NOMAD HEART - in Shanghai
2011.4.19-5.6  Wujiaochang No.800 ARTSHAKER .
※There will be a reception party on the first day of the exhibition (April 19th ). It is free of charge and we heartily welcome you to join us!

ARTSHAKER : No.800 East Guoshun Rd.Shanghai .TEL:86-21-55126636*803
http://www.800artsh.com/
This is my first overseas exhibition.
I will be in Shanghai from April 19th to May 6th but will not be at the exhibition every day. Please send by E-mail to info@georarms.comor chizu_m@georarms.com (manager Matsuda) about your schedule to visit us.
Please come with your family and friend, and we are honored to welcome you to this exhibition!